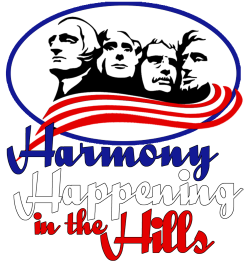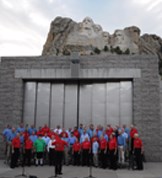 Harmony Happening in the Hills
August 23-24, 2019 will be another great weekend of harmony in the Black Hills of South Dakota. This year's clinician, Richard Lapp, will be leading us through a full day of rehearsals culminating in a performance at Crazy Horse Memorial (the Mount Rushmore amphitheater is undergoing a year-plus-long upgrade). Of course, things get started on Friday evening with the meet and greet, hot dog feed, then the renowned "Somewhat Serious Quartet Contest". Find out who your quartet mates are and vie for the coveted gold medal. Come early (festivities start about 5:00).
The performance is scheduled for approx. 5 PM, Saturday, August 24 at the viewing platform of the Crazy Horse Memorial.
For more information, call Rod at (605) 646-3095 or email him.
Greetings Potential Harmony in the Hills Attendees
Please read!
This update will touch on several new challenges brought about by the new location of our Saturday performance at Crazy Horse Memorial.
Challenge #1 This year will be different in that the Crazy Horse Memorial is a privately held facility and they charge a per person entry fee, but no parking fee. So what Pete and I have negotiated is this. All singers, companions, spouses, and guests must ride the buses we have arranged to take us from the Hill City Boys and Girls Club location, loading at approx. 4:00 pm and transport us to the memorial for setup and performance in the theater. We all return via bus to the Boys and Girls Club at approximately 7:30pm. We have 4 busses holding 46 passengers each scheduled, more available once we have approximate count of riders. Now the business part of this, the cost of entry and transportation to and from the memorial will total $10.00 per person for those wishing to attend and ride the buses. This is a significant reduction from the normal rate of $12.75 per person and you would still have to mess with driving and parking versus Mt. Rushmore with parking at $10.00. We felt this is very reasonable considering the parking and driving hassle this process now eliminates. Note: all registered singers will be billed for this process when registering; however guests, companions, and spouses will need to pay the $10.00 upon loading on the busses. If you wish to drive your own vehicle you will pay the $12.75 per person price! We believe this is the most efficient and cost effective way to handle our group. We will have several boxes when registering on line where you can indicate and pay for how many additional bus riders aside from performers you intend to bring with. Note chorus's that plan to attend as an entire group I will contact as soon as you clue me via email who to contact and we can discuss your individual group needs.
Challenge # 2 Since the Crazy Horse Memorial is privately held and has a very strong Native American Culture we all will need be sensitive to this culture and act appropriately. Any action that may be deemed unsuitable or objectionable or are not in keeping with the philosophy and purpose of the memorial is reason for removal of our entire event. Special note the memorial will have several performance events going on when our event is scheduled and the memorial does not authorize or condone small group singing. We are authorized to sing in the theater at our specific time only. If anyone has questions regarding above please contact Rod or Pete. Since the SOD chorus has plans to perform several times a year at the Crazy Horse Memorial your cooperation would be most appreciated.
Challenge #3 Per the SOD Chorus and our guest clinicians request to be sensitive to the Native American Culture and honor the memorial we have decided to modify the song "Let there be peace" #8614 to include a reading of a Native American /Lakota poem and a guest performer will be brought in to assist the mas chorus accomplish this. We all will need cooperate and perform as best possible to achieve the planned selection.
Harmony Happening in the Hills Event Rough Schedule
Friday, August 23
5:00 pm
Hill City Boys and Girls Club - Registration, Kick-off, Meet and Greet, Barbecue sing out,
5:30 pm to 6:00 pm
sing in downtown Hill City, Pete Stach will clue us to exact timing for this, pole cats will be the music for the street singing,
6:30 pm to 7:00 pm
Quartet contest
Hot Dogs and Chips to eat, note this is included in your registration, guests and spouses eat for free. Beverages, Beer and Wine available on donation basis. Meet new friends and revisit past friends. We must be out by 11:00 so all hands needed for cleanup.
Saturday, August 24
8:30 am
Hill City High School Theater (additional Registration for those who did not attend Friday evening activities )
9:00 am
Rehearsal Starts with Guest Clinician Rich Lapp
12:00 pm to 1:00 pm
Lunch
1:00 pm to 3:00 pm
Rehearsal
4:00 pm
Bus's will be at Hill City Boys and Girls Club
We load all performers and guests/spouses and companions
Note: guests/companions / spouses pay 10.00 per person when boarding bus unless paid prior.
4:20 pm
Performance Set-up: Crazy Horse Memorial Theater, Risers and Audio
5:00 pm
Saturday Performance: Crazy Horse theater
Need to be out by 7:30pm -- Including striking the stage and audio all hands needed to accomplish this.
7:30 pm
Load bus, return to Hill City Boys and Girls Club
8:00 pm
Saturday Evening Afterglow: Hill City Boys and Girls Club
light meal provided cost is 10:00 per person, cleanup is our responsibility, we must be out at 11:00pm
Songs:
Listing is not a any particular order, changes possible at director discretion.
America the Beautiful (#7340) with Joe Liles Overlay
God Bless America (#204428, was #7641)
Star Spangled Banner (#7643, Val Hicks Arrangement)
This is My Country (#7601)
Armed Forces Medley (#200906)
Directors Choice - Bye Bye Blues (#8405)
Directors Choice - Let There be Peace on Earth (#8614); note: this will have Lakota poem or anthem in it by guest performer while chorus loos or similar.