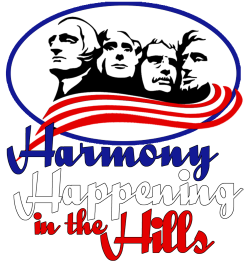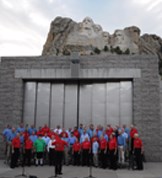 Harmony Happening in the Hills
August 24-25, 2018 will be another great weekend of harmony in the Black Hills of South Dakota. This year's clinician, Jim Clark, will be leading us through a full day of rehearsals culminating in a performance at Mt. Rushmore under the world's largest quartet. Of course, things get started on Friday evening with the meet and greet, hot dog feed, then the renowned "Somewhat Serious Quartet Contest". Find out who your quartet mates are and vie for the coveted gold medal. Come early (festivities start about 5:00).
The performance is scheduled for approx. 5 PM, Saturday, August 25 in the amphitheater.
Registration closed on August 17.
For more information, call Rod at (605) 646-3095 or email him.