Mt. Rushmore Chapter History
by Al Pitts - written in July 2001
In early 1969 a small group of men decided it was time to form a Barbershop Harmony Chapter in Rapid City. This small group consisted of mainly my old quartet: Jerry Smith - tenor, Rollie Mead - lead, Jerry Snedigar - bari, and Al Pitts - bass. Lindy Levitt and Ed Sewell had been to some barbershop performances and had done some quartet singing since 1951. So, the six of us and possibly another guy or two got together and decided to contact the society about forming a chapter. I believe Lindy was self-appointed to make initial contact.
At that time, Lloyd Steinkamp was a field representative of the society. He volunteered to come to town and a date was established. Each of us called friends who we thought would interested in singing and invited them to the Elks Club for an organizational meeting. Steinkamp proved to be a good chorus director and an even better salesman. He told us we were producing good sound and that he was impressed with our singing and our turnout. I would say we had twenty-five men present.
We were really "gung-ho" and wasted no time in getting things lined up for chartering. The chapter meeting began in a back room of an insurance building at 9th and St. Joseph. I believe this was March of 1969, a week after the organizational meeting. Mac McKinney was appointed music director but was transferred out of town within three months. This is when I accepted the job of chorus director and continued on until Clayton Southwick took over in 1985.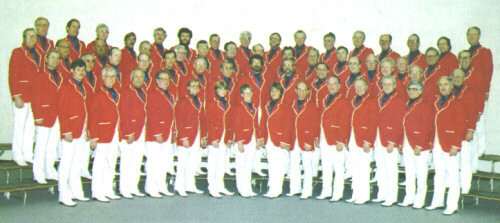 Chorus in 1985
Things were happening fast as we picked up new singers right along and planned for our first show. The big night arrived in February of 1970. We presented our charter show, a sell out (SRO) due to fifty-one excited men selling tickets to hundreds of people who had never even heard of barbershop harmony. At the same time we made society history in chartering with fifty-one names on our charter, the most ever to charter with SPEBSQSA. I don't know if that record still stands. Actually, we had some names of men on there who never sang in the chorus but wanted to be a part of the group.
Out of that group of fifty-one I believe that approximately twenty are deceased, a dozen or so still live in this area but are unable to participate, and some have moved elsewhere or just lost contact.
Boy, it was a sight to behold when we were all going strong, filled with pride of success and having fun with a new hobby called "Barbershop Harmony".